[ad_1]

Every customer is different.
They are at different stages of the buying journey and, therefore, respond to different messages. Having only one message—and shouting that at all of them—will not work and may even turn some of them off.
Instead, you need a better strategy. One that takes into consideration the stage customers are in. From there, you can customize a more suitable message.
How do you do that?
Well, you can do what's called lifecycle marketing. In this post, you'll learn the following:
Lifecycle marketing is the process of matching the type of communication a customer wants to see as they progress along their lifecycle.
Typically, the customer lifecycle consists of six high-level stages, similar to the modern-day marketing funnel:
Awareness – Your potential customers first learn about your brand.
Engagement – Your potential customers interact with your brand and learn more about your offerings.
Consideration – Your potential customers evaluate your offerings and decide if you're the right fit.
Purchase – Your potential customers turn into customers by buying from you.
Support – You support your customers by ensuring they're deriving maximum value and satisfaction from their purchase.
Loyalty – Your customers love your brand. They purchase from you repeatedly and/or take the initiative to tell others about you.
The idea behind lifecycle marketing was developed by Infusionsoft (now Keap) to promote its email marketing software. Today, the concept continues to be associated with email marketing.
However, customers don't just interact with a business via email. So we can expand the scope of lifecycle marketing to other marketing channels too.
To create a lifecycle marketing strategy, we'll use this framework, courtesy of Barilliance. It involves three steps:
Triggers
Message(s)
Channel
Let's look at them in more detail.
1. Triggers
Triggers are predefined conditions that determine when a marketing message should be presented to a customer. These conditions are aligned with the six stages of the customer lifecycle.
Since the six stages of the customer lifecycle are pretty high-level ones, let's break them down into more specific segments that can serve as triggers:
Prospects who have not heard of your brand [Awareness]
New site visitors [Awareness]
New email subscribers [Engagement]
Prospects who are comparing [Consideration]
Cart abandoners [Consideration]
First-time customers [Purchase]
Churned customers [Support]
Active customers/VIPs [Loyalty]
Basically, any customer action can be turned into a trigger.
2. Message
This is what you send your customers.
Don't just send anything, though—not only should your customers care about the message, but it should also be related to the trigger that sent said message.
For instance, you may want to send an email reminder to cart abandoners, i.e., customers who dropped off at the Consideration stage.
3. Channel
This is where the message is taking place. It can be any marketing channel—email, social, live chat, YouTube, etc.
With the framework in place, let's look at how we can apply it in reality. We'll use the segments we created as examples of how to execute lifecycle marketing.
1. Prospects who have not heard of your brand
Trigger: Customers realize they have a problem and search on Google to learn how to resolve it
Message: Educate your customers on how to solve the problem
Channel: Search engine optimization (SEO)
Customers can't buy from you unless they know you exist. And discovery usually occurs because customers first find out they have a problem they need to solve.
When that happens, most of the time, they turn to Google. This means if we want potential customers to find us, we need to rank on Google. Not only that, we need to figure out what problems they're searching for and what kinds of words they're using.
To do that, we can use a keyword research tool. Here's how:
Go to Ahrefs' Keywords Explorer
Enter a few terms related to what you're selling (e.g., "coffee," "cappuccino," "coffee bean," etc)
Go to the Matching terms report
Switch the tab to Questions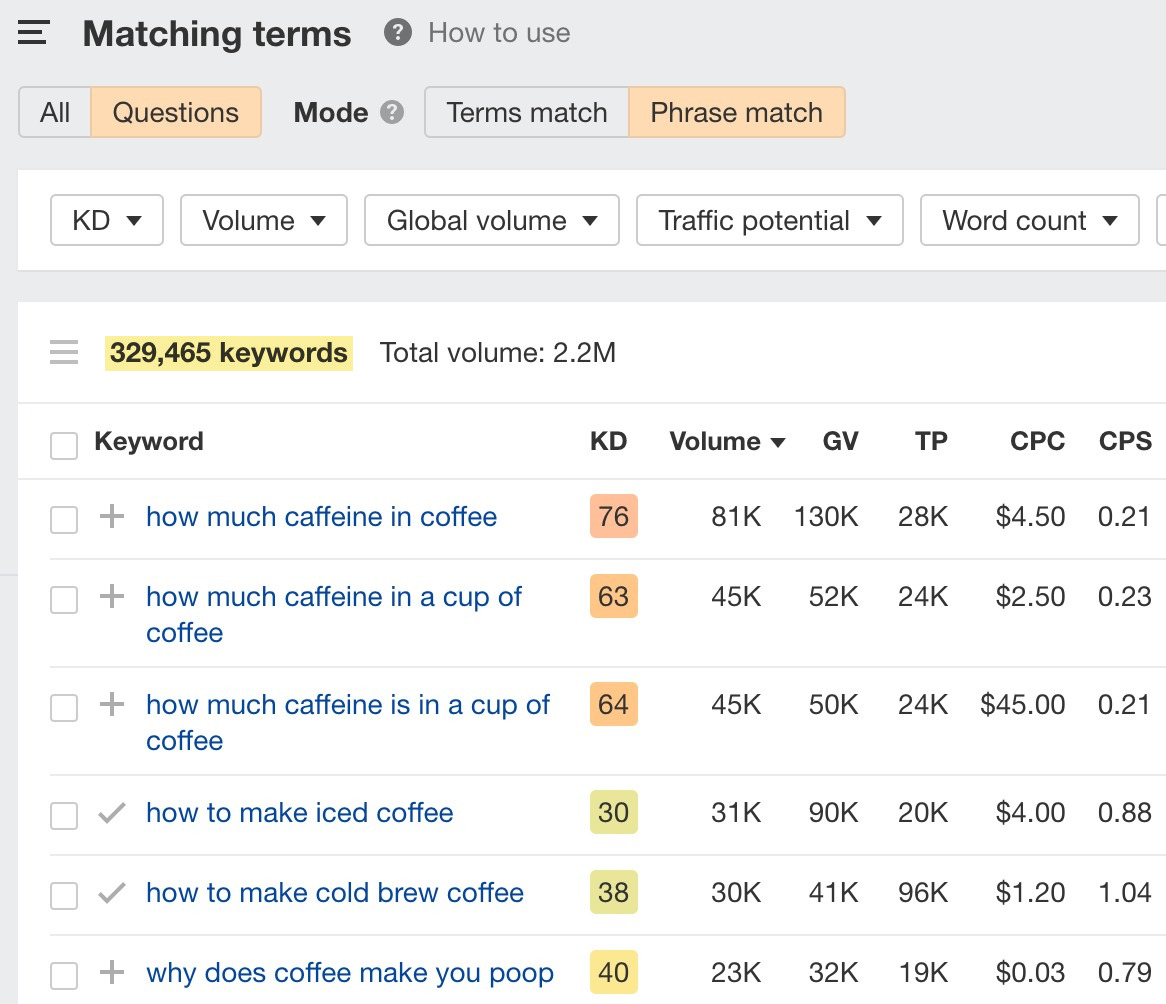 Here, you'll see over 300,000 potential topics you could target. Look through the list and pick out those that are relevant to your website. Then create content that will rank for these topics.
Recommended reading: Keyword Research: The Beginner's Guide by Ahrefs
2. New site visitors
Trigger: Customers land on your site for the first time after discovering your content
Message: Subscribe to your newsletter
Channel: Email
After discovering your content, most people will leave and never return. So if you want them to continue engaging with your content and brand, you need to get them to stay or return to your website again.
There are many ways to do this, including getting them to follow you on your social channels. In my opinion, email is the best channel because you own the direct communication. (Social platforms can remove you anytime.)
However, a visitor to your website won't hand over their contact information without some enticement. You can do this in a variety of ways. For example, we keep it simple by asking them to join our weekly digest: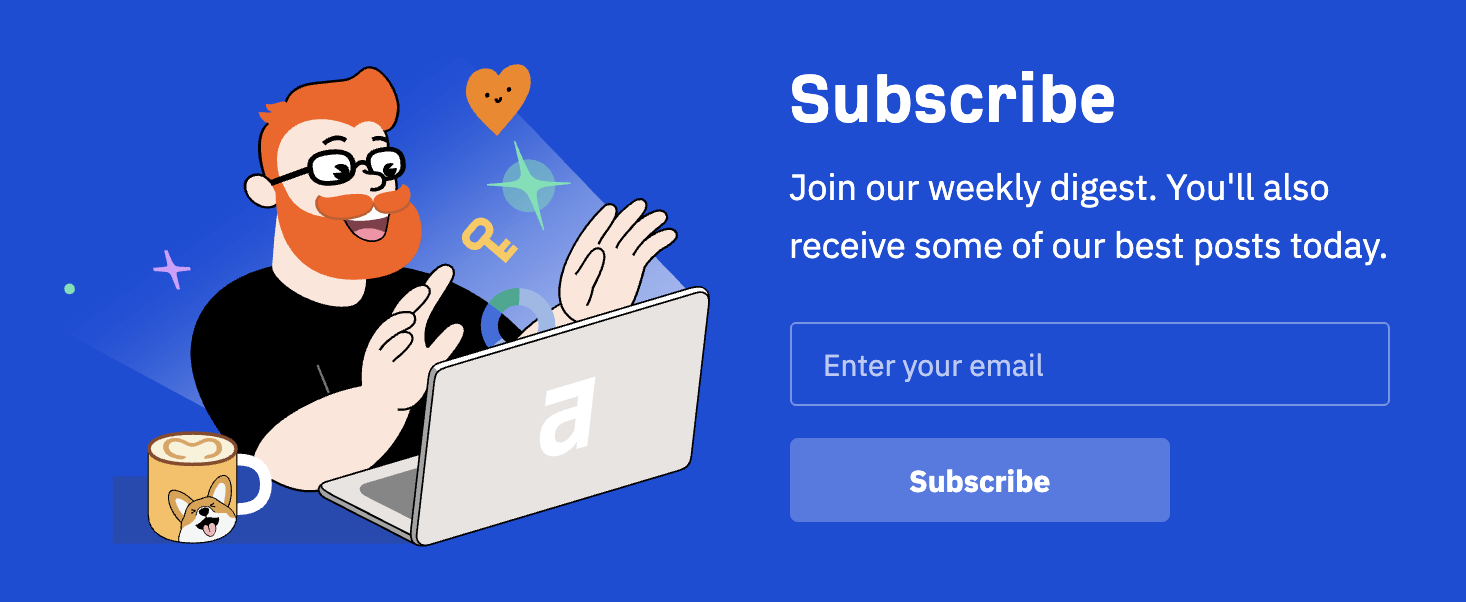 E‑commerce stores tend to dangle discounts as an incentive: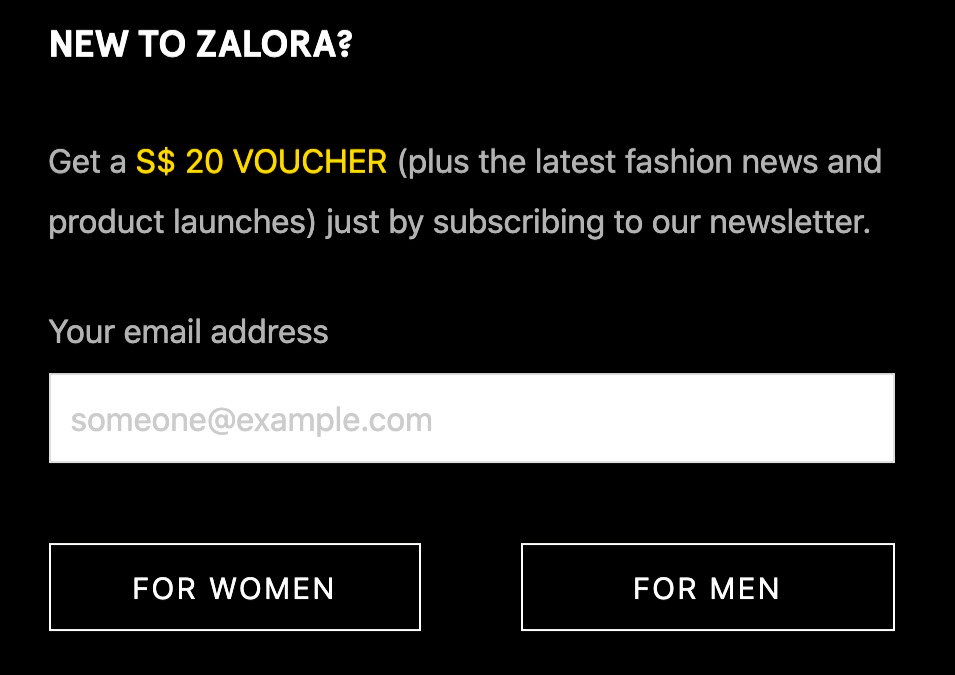 Whereas bloggers prefer giving away free eBooks: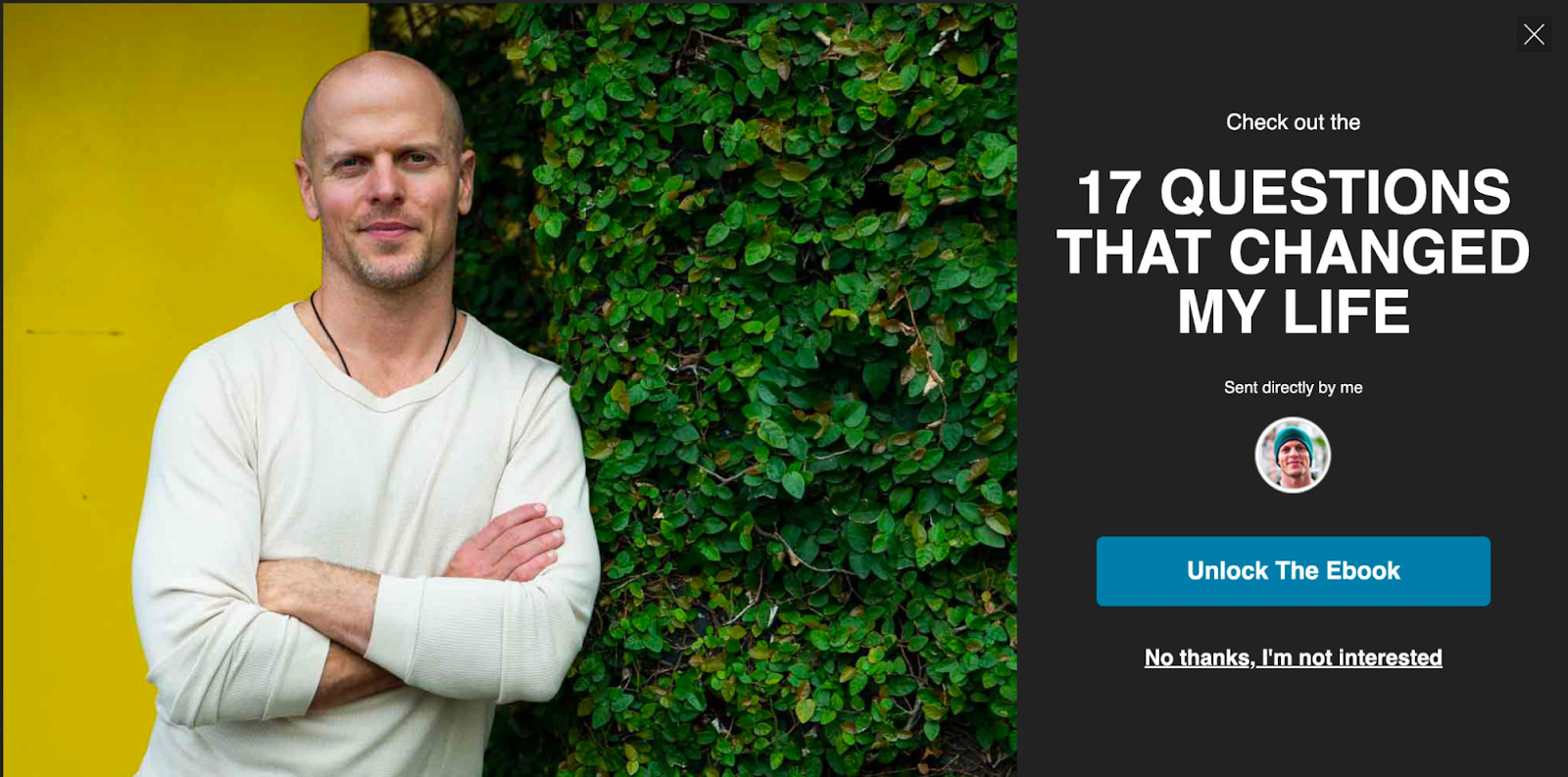 3. New email subscribers
Trigger: Customers sign up for your newsletter
Message: A welcome series introducing your brand, content, and catalog/products
Channel: Email
Once the prospect signs up for your newsletter, you should deliver whatever you promised—a discount code, eBook, etc. But beyond that, it's a great opportunity to continue engaging them and introducing more of your content (or if you're an e‑commerce store, your catalog of products).
For example, after confirming your subscription, marketing agency Demand Curve follows up with an email of resources you can check out: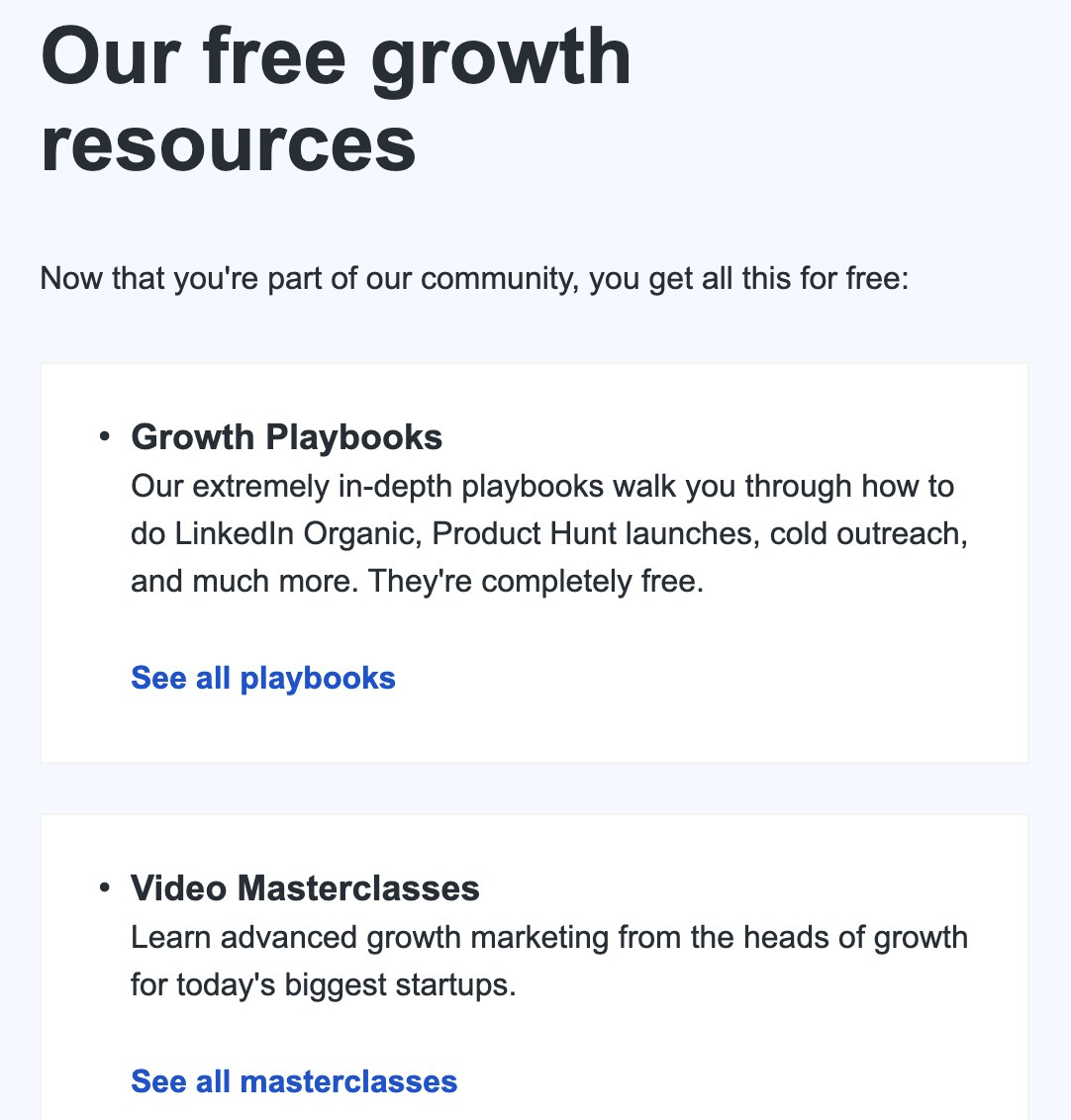 Dr. Rhonda Patrick has a multiday email series that introduces you to her premium content, which she provides for free: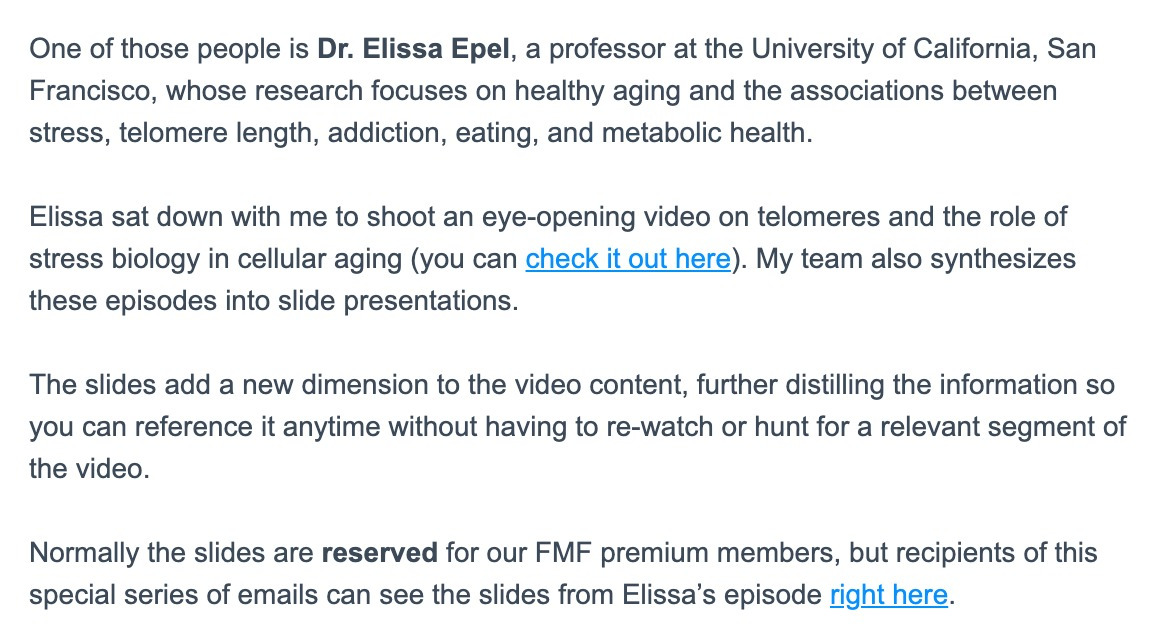 4. Prospects who are comparing
Trigger: Customers are looking for product comparisons on Google
Message: Feature comparisons, product comparisons
Channel: SEO
Customers will always want the best bang for their buck. So even if they're familiar with your brand, they'll make comparisons. One of the ways they do this is by searching on Google for comparisons between your brand and your competitors'.
Here's how to find who your customers are comparing you with:
Go to Ahrefs' Keywords Explorer
Enter your brand name
Go to the Matching terms report
Under Terms, click on "vs"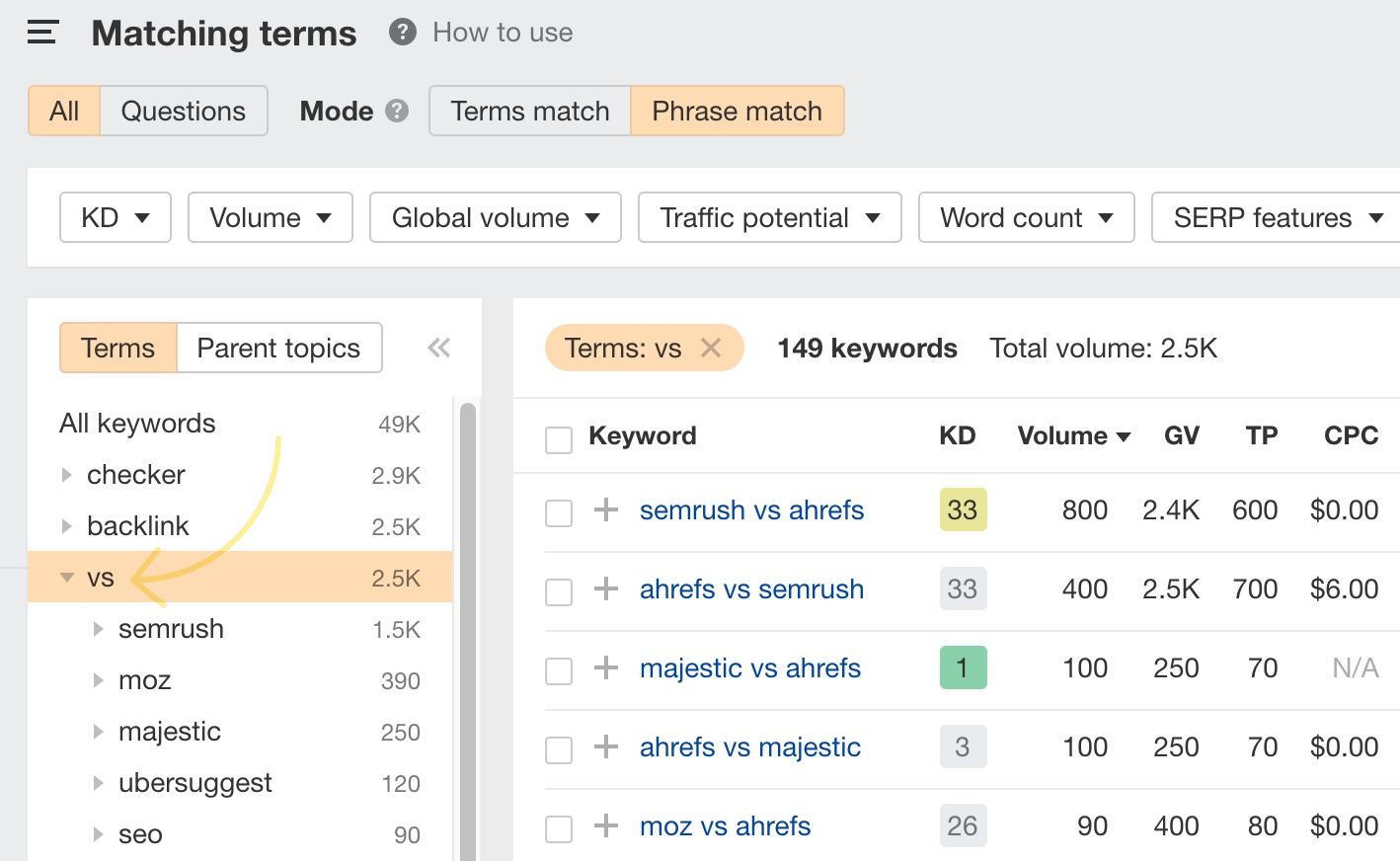 Here, we can see the different brands that our customers are comparing us with.
It's up to you whether you want to create one page or individual pages for each competitor. At Ahrefs, we created one versus page: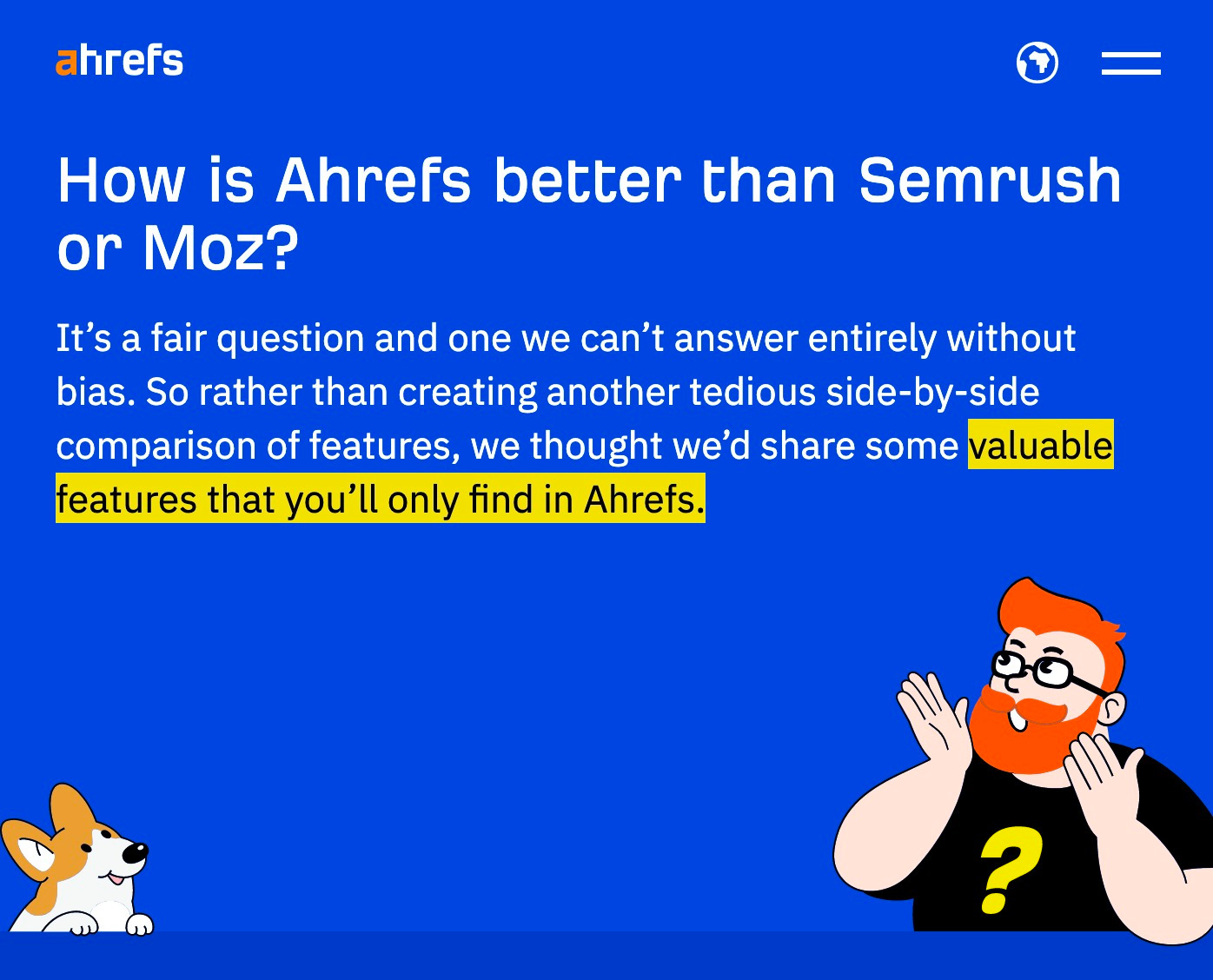 Rather than the standard side-by-side comparison of features where the page creator wins, we decided to feature independent polls and talk about the features that only our toolset has.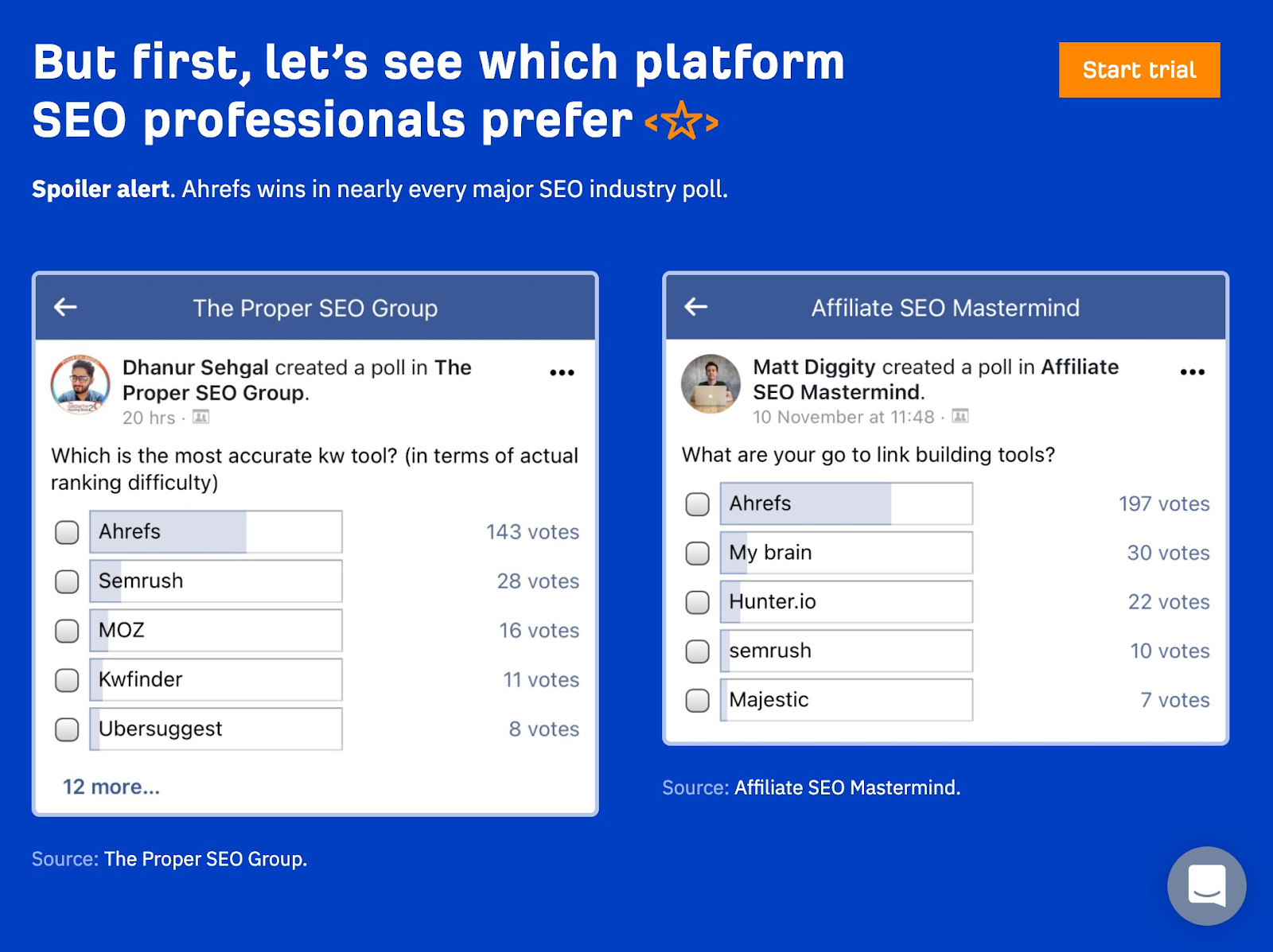 5. Cart abandoners
Trigger: Customers add products to the cart but don't complete the purchase
Message: Complete the checkout process
Channel: Email, retargeting
During the process of buying, customers may procrastinate or hesitate. They begin by adding your products to the shopping cart but abandon it halfway because they are distracted, have another matter to attend to, are surprised at the total price, or are annoyed by an element of your checkout process.
In fact, Statista's March 2021 study found that almost 80% of online shopping orders were abandoned.
Abandoned carts are fine if customers return. But many don't. Sleeknote claims that e‑commerce brands lose around $18 billion in sales each year because of cart abandonment.
That means you need a way to try and get these customers back.
The most common way is to send an "abandoned cart" email. Here's an example from Bonobos, a men's clothing brand:
Abandoned cart emails aren't just limited to e‑commerce brands. You can use these emails for any incomplete transaction in any industry. For example, here's one from CodeAcademy, an online programming school: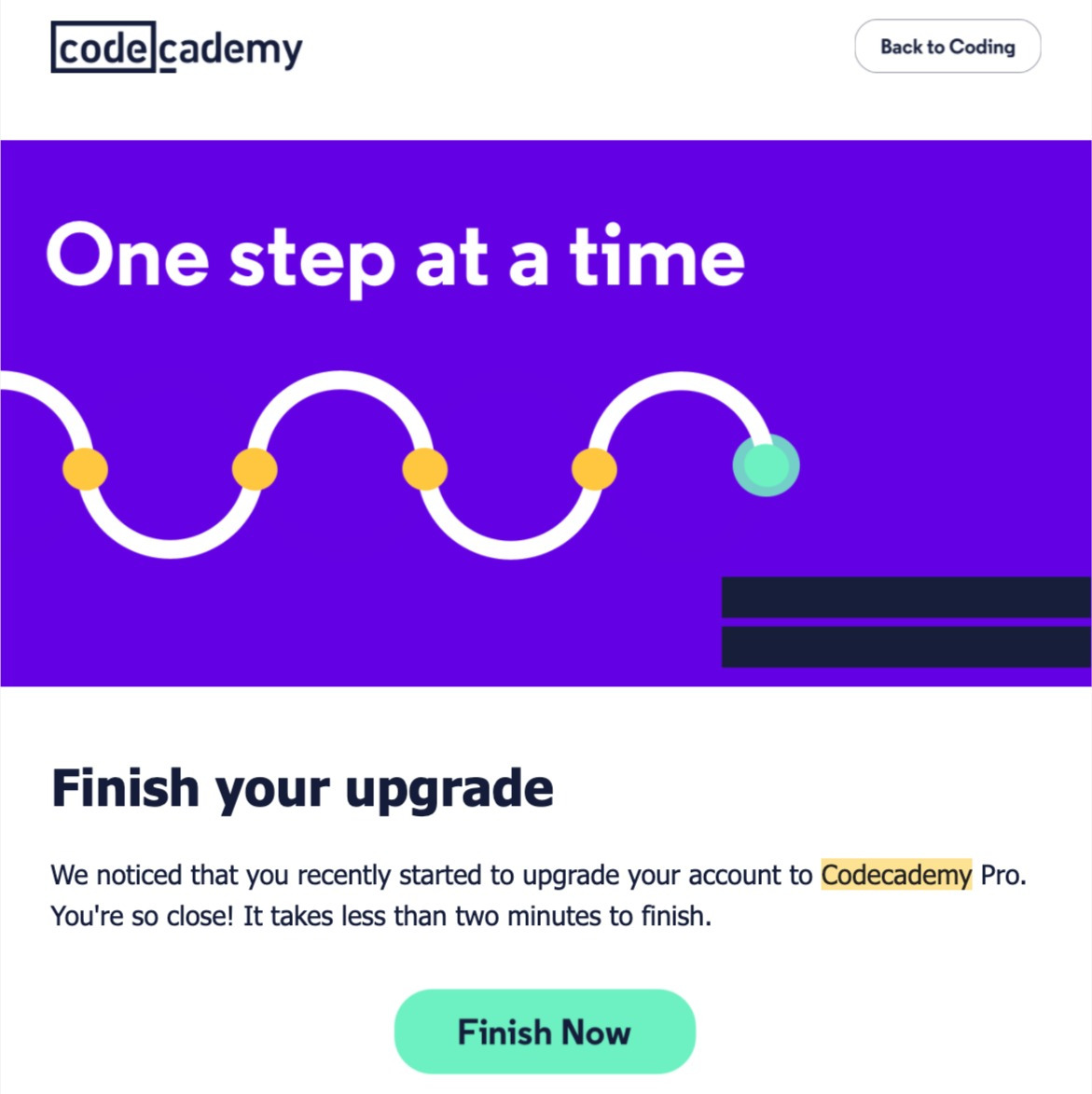 Besides email, you can also retarget these customers using social media ads. That way, as they're browsing the web, they're reminded to complete their checkout with your brand.
6. First-time customers
Trigger: Customers buy your product
Message: How to get the best out of your product
Channel: Email, in-app, live chat, social media, video, content marketing
Give your new customers a great experience, and they'll be on their way to becoming a VIP of your brand. One way to do this is to offer support and education—teach them how best to use your product so that they will be motivated to stay or buy more.
At Ahrefs, besides our in-app onboarding, we also send emails introducing a variety of resources we've created to help customers get more out of our product. This includes a brief explainer on what our toolset does, an introduction to our knowledge base and in-app tutorials, as well as reminding them they can speak to support staff on the live chat anytime they need help.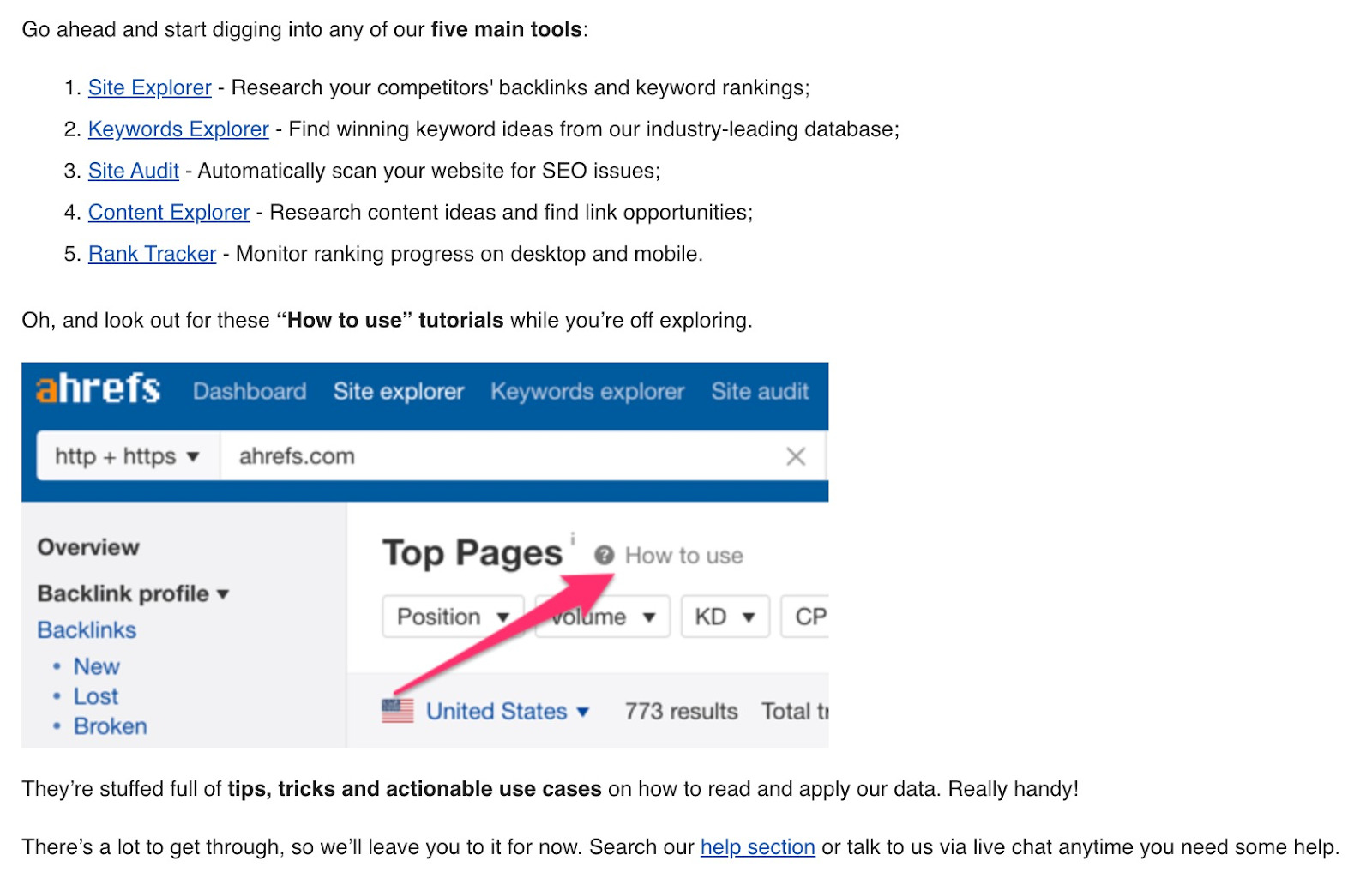 We also share with them the best content on our blog and YouTube channel, most of which features the different ways to use our toolset and execute different tactics:
Finally, we also invite them to join our customers-only Facebook group, Ahrefs Insider, so they can interact with other top-tier SEOs to get the latest tips, tactics, and solutions for their problems: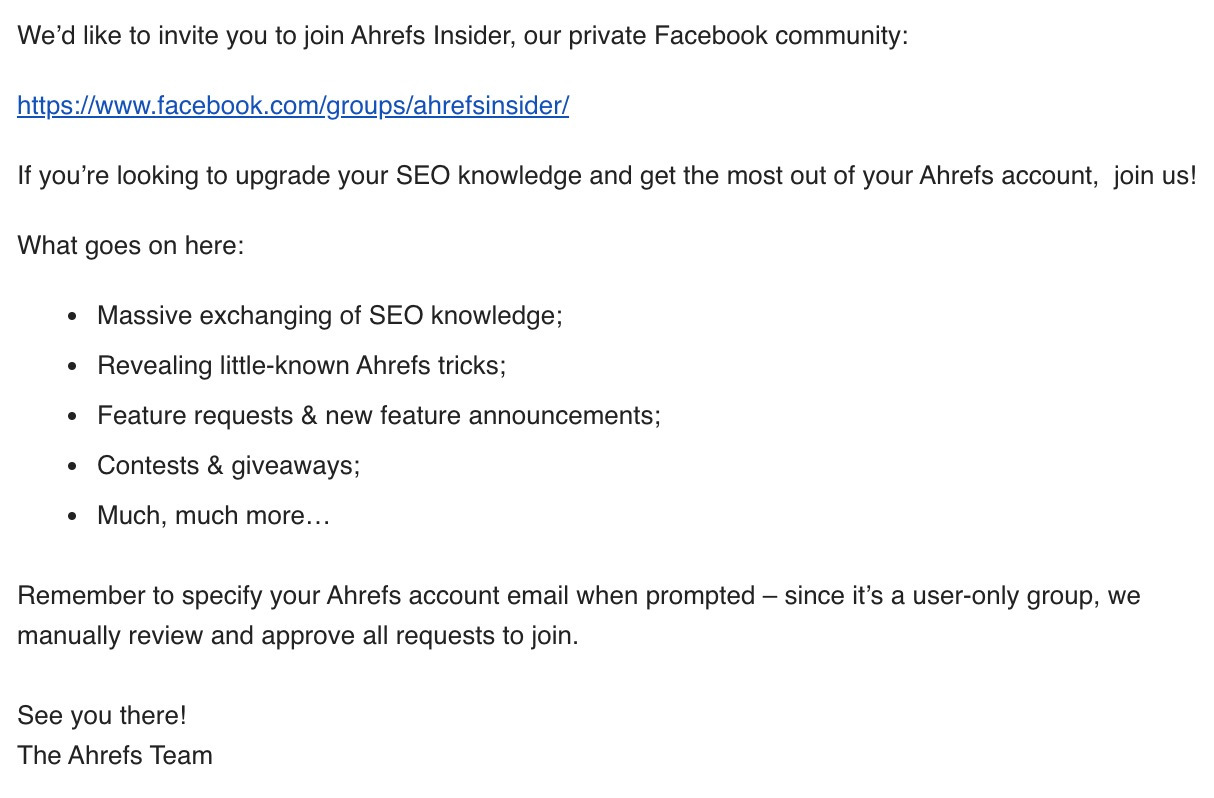 Education and support aren't just limited to software-as-a-service (SaaS) businesses like ours. E‑commerce brands can do it too. Take a look, for example, at how Beardbrand creates content to support its customers:
If you sell women's clothing, you can always show your customers how to pair up different styles for different seasons. Or if you sell sneakers, teach your customers how to take care of them (especially suedes!), clean them, and pair them up with different styles (or even lace them differently!).
7. Churned customers
Trigger: Customers buy your product once and never purchase anything again
Message: Discount for returning
Channel: Email, retargeting
The above trigger is to prevent churn. But no matter how much you try, some customers will leave or stop buying from you. However, a percentage of them can be persuaded back.
Retargeting can work well here. Use ads to remind them they've not bought from you for a while and invite them to check out your brand again.
Email can work too. Drew Sanocki famously helped transform streetwear brand KarmaLoop from facing bankruptcy to being acquired. One of the tools in his toolbox was the discount ladder strategy for winning back churned customers.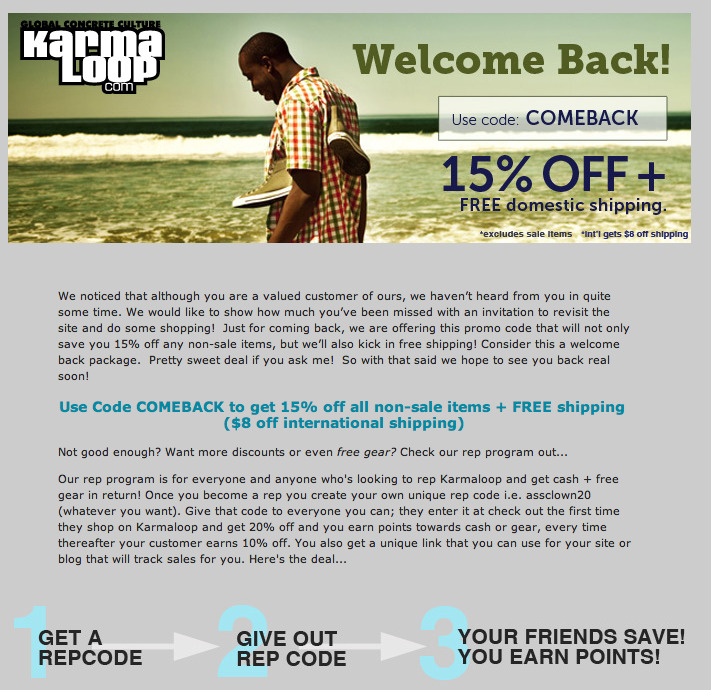 Drew explains the strategy in more detail here. But basically, the idea is to give increasing discounts over time to customers who haven't made a purchase in a while.
But once the customer buys, they're taken off the discount ladder. This ensures you're not driving your brand downward into a discounting spiral (incidentally the reason why KarmaLoop was on the verge of bankruptcy in the first place).
8. VIPs
Trigger: Customers who repeatedly and frequently buy your products
Message: Join VIP program
Channel: Email, in-app, in-store
Customers who love your product should be given more opportunities to buy again and buy often. If you have one, it's a good idea to invite them to your loyalty or VIP program.
For example, Sephora's Beauty Insider is one of the most successful loyalty programs around. It has over 25 million members, and they make up close to 80% of Sephora's annual sales.
The Beauty Insider program has tiers, which encourage loyal customers to buy more so that they get upgraded to higher tiers: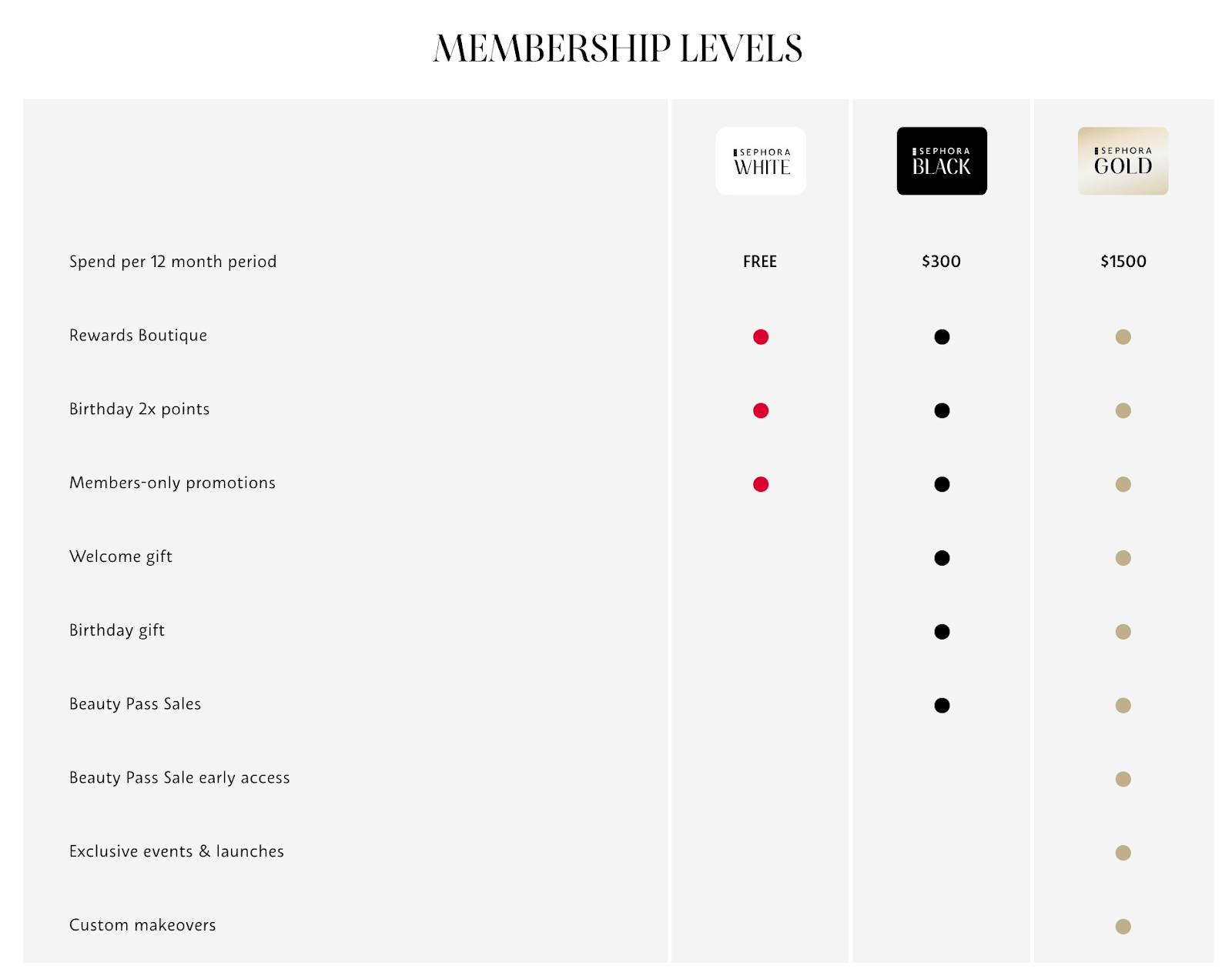 Being a Very Important Beauty (VIB) member is important to Sephora's community members. Not only do they get rewards and discounts, but they also get…
[ad_2]