[ad_1]

There are lots of SEO newsletters. Maybe too many.
I sacrificed my email inbox to bring you a carefully chosen selection of favorites. Every newsletter included here does four things:
Focuses specifically on SEO (and not just marketing)
Offers valuable free content (and isn't locked behind a Substack paywall)
Sends regular emails (and hasn't stopped publishing)
Offers something unique (and does it better than any other newsletter)
The 10 newsletters featured here cover every corner of the search world, including Google algorithm updates, local SEO tips, detailed tutorials, and new job opportunities.
(And if you'd like to choose your own favorites, here's my spreadsheet of all 71 newsletters.)
Best for: Getting a little taste of all things SEO
Author: Aleyda Solis
Number of subscribers: 28,000
Email frequency: Weekly on Sunday
Can you sponsor this newsletter? Yes—email Aleyda here
Subscribe link: https://seofomo.co/ 
#SEOFOMO is the Swiss Army Knife of newsletters. Once weekly, Aleyda Solis shares her selection of search news, interesting links, open jobs, upcoming events, and people to follow.
If your fear of missing out extends beyond search into marketing generally, Aleyda also curates the MarketingFOMO newsletter.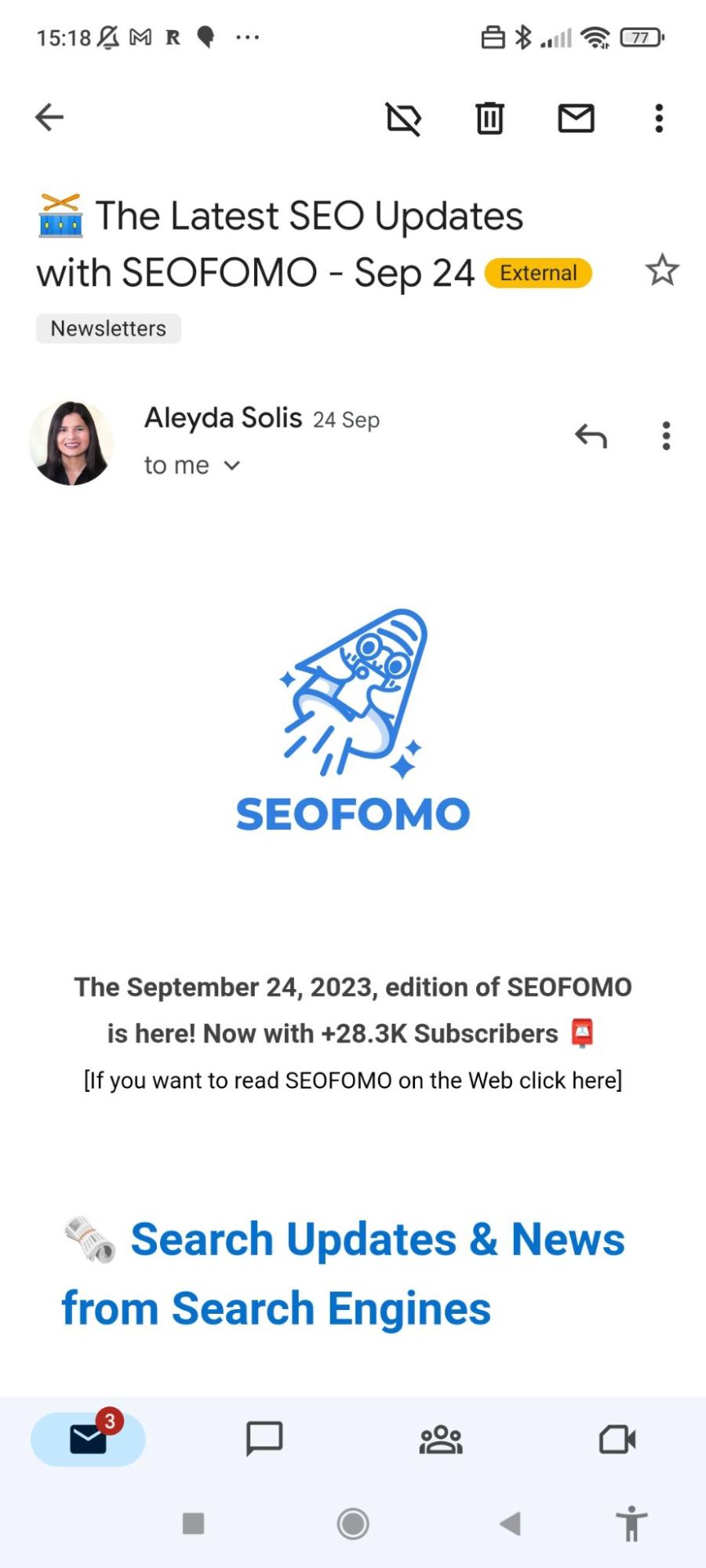 Best for: Learning SEO's soft skills
Author: Tom Critchlow
Number of subscribers: 10,000
Email frequency: Every few months
Can you sponsor this newsletter? Not currently
Subscribe link: https://newsletter.seomba.com/about 
The SEO MBA focuses on the "soft skills" of SEO like communication, problem-solving, and leadership.
You're probably pretty great at keyword research and link building. The SEO MBA will help you level up in other areas: reporting wins to your boss, pitching new projects, and even interviewing for new jobs.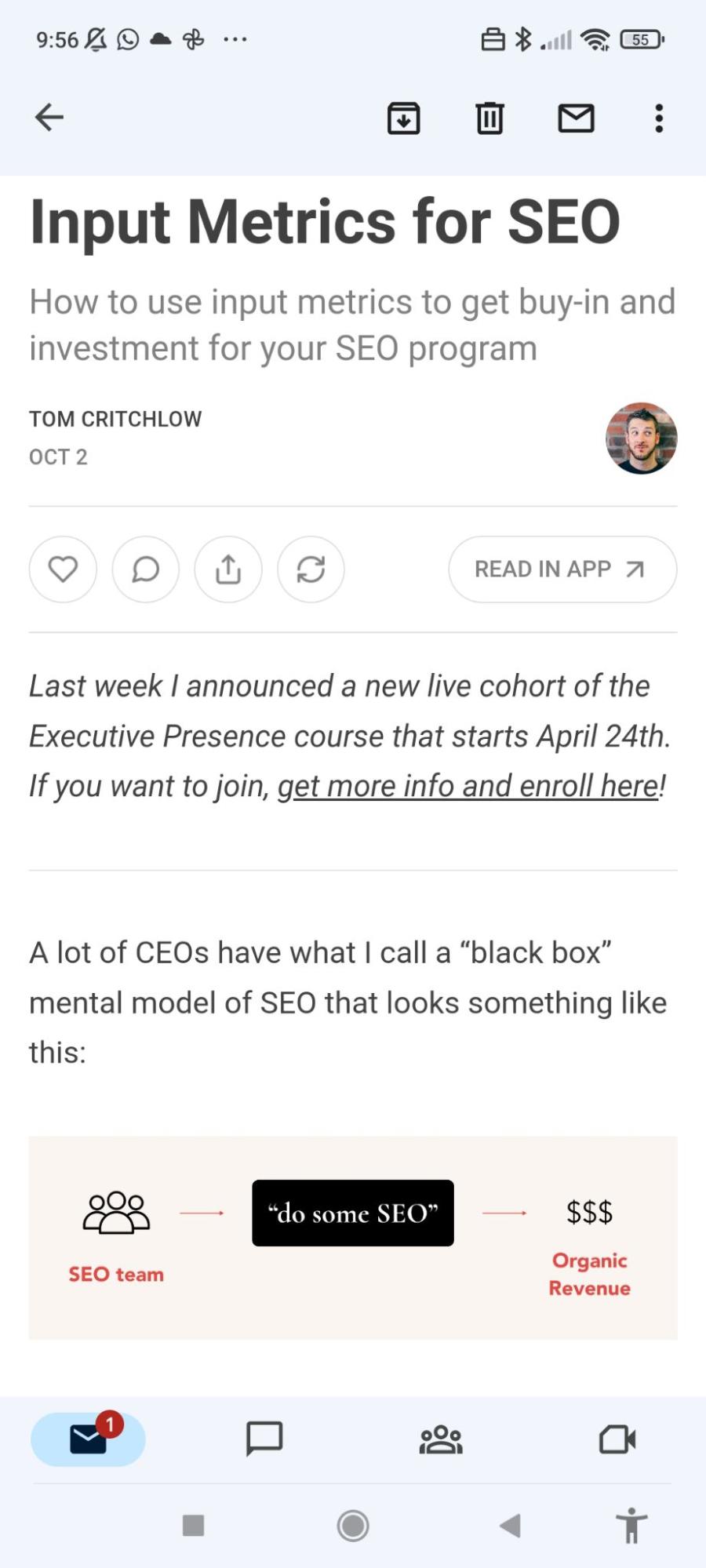 Best for: Understanding SEO for publishers and news outlets
Authors: Jessie Willms, Shelby Blackley
Number of subscribers: 7,750
Email frequency: Weekly on Monday
Can you sponsor this newsletter? Yes
Subscribe link: https://www.seoforjournalism.com/ 
WTF is SEO? covers core SEO concepts from the perspective of journalists and media companies.
Authors Jessie Willms and Shelby Blackley are both in-house SEOs at big news publishers. They write from personal experience on topics like using keyword research for news items, auditing complicated tag pages, and working within the constraints of paywalled content.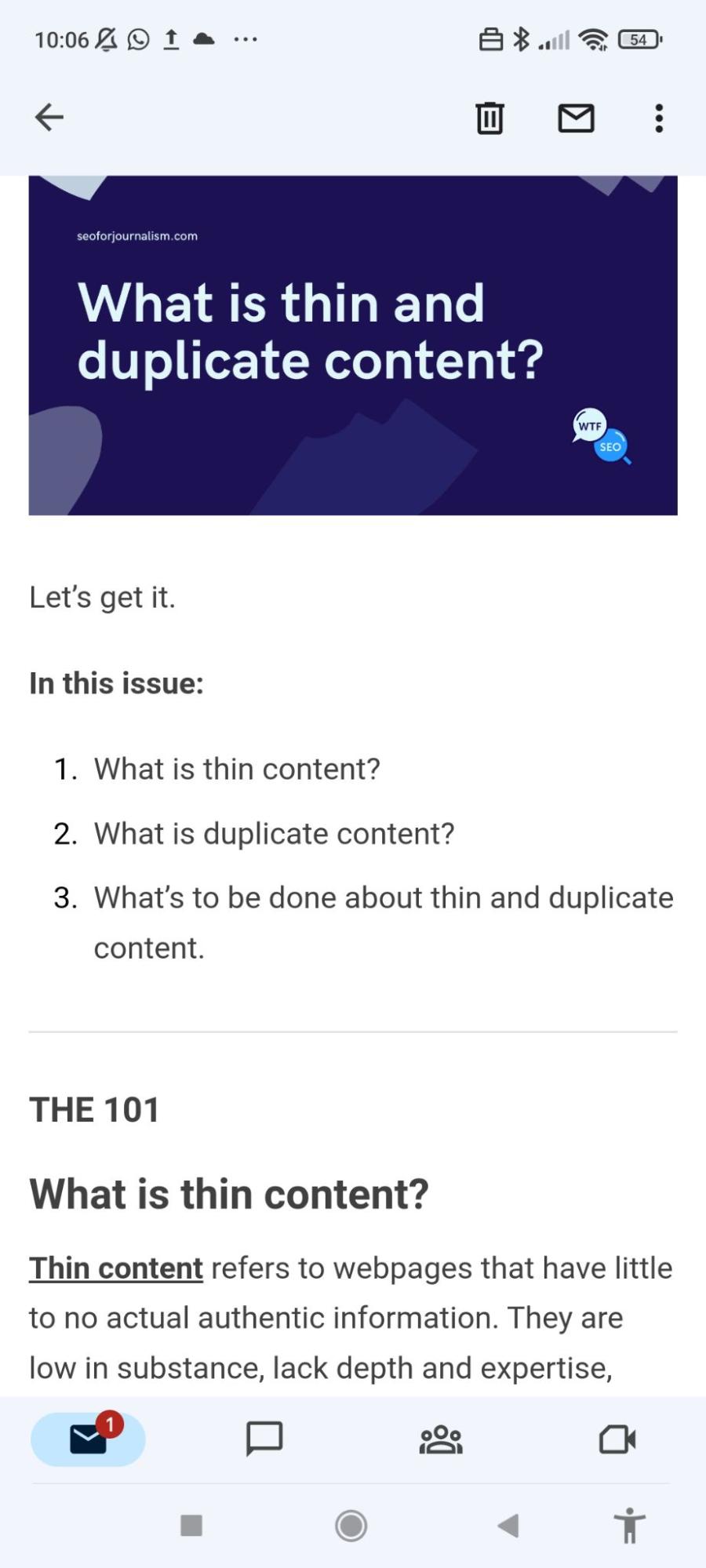 Best for: Original research into the biggest players in SEO
Author: Glen Allsopp
Number of subscribers: 30,000–40,000
Email frequency: Three to five emails per year
Can you sponsor this newsletter? No
Subscribe link: https://detailed.com/#newsletter 
Detailed's Glen Allsopp tracks the search performance of 2,917 companies (not a typo) and shares his findings every few months.
I've learned a lot from Detailed. For example: 562 of the biggest media brands are owned by just 16 companies. Together, they generate almost 4 billion clicks per month. And the biggest brand of the bunch? Pop-culture wiki site Fandom.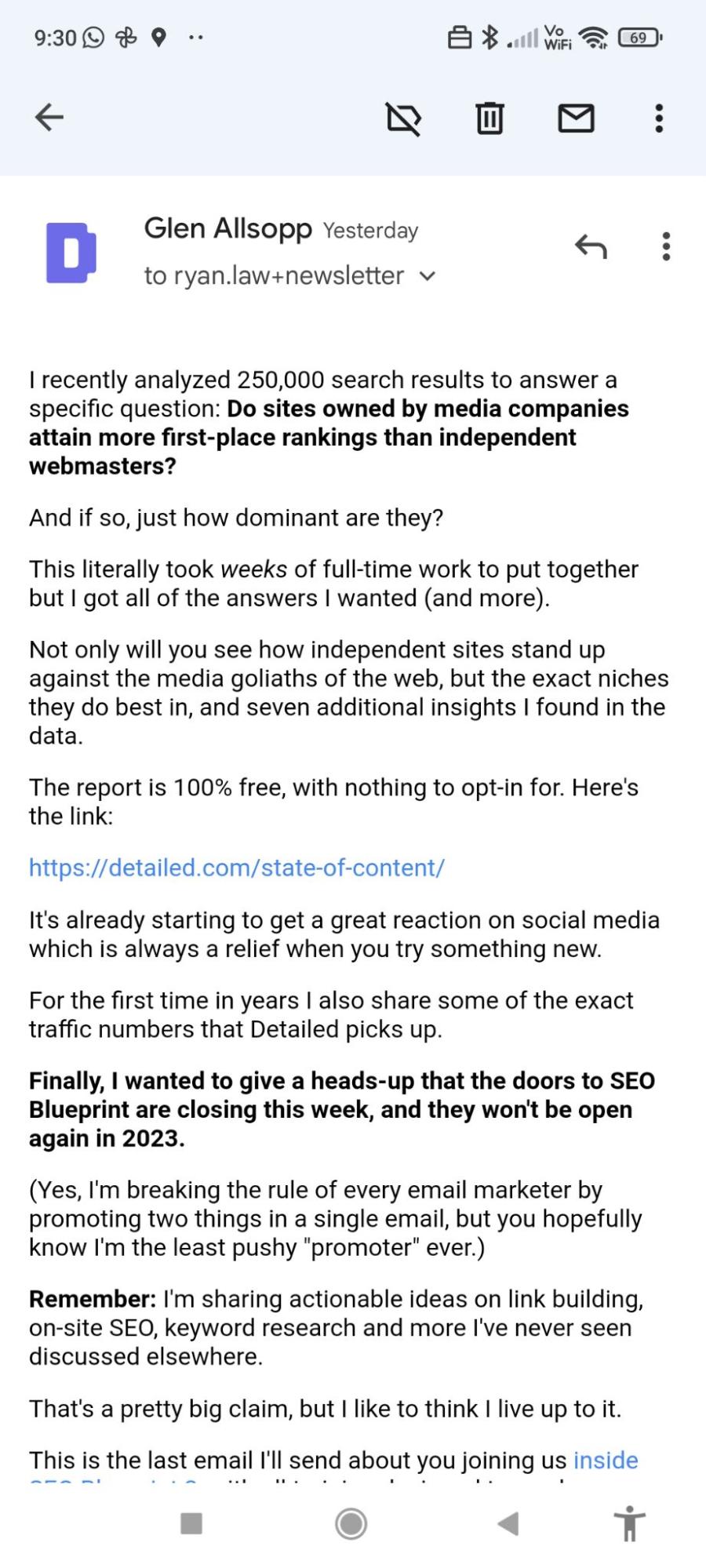 Best for: Quick, super actionable SEO tactics
Author: Steve Toth
Number of subscribers: 16,000
Email frequency: Weekly
Can you sponsor this newsletter? Yes—email [email protected] 
Subscribe link: https://seonotebook.com/ 
SEO Notebook shares tactics plucked directly from author Steve Toth's notebook. No long essays, no polarizing opinion pieces—just quick recommendations for better rankings.
Recent tips include finding zero-volume keywords that actually generate traffic, using regex in Google Search Console, and building links using the power of jealousy.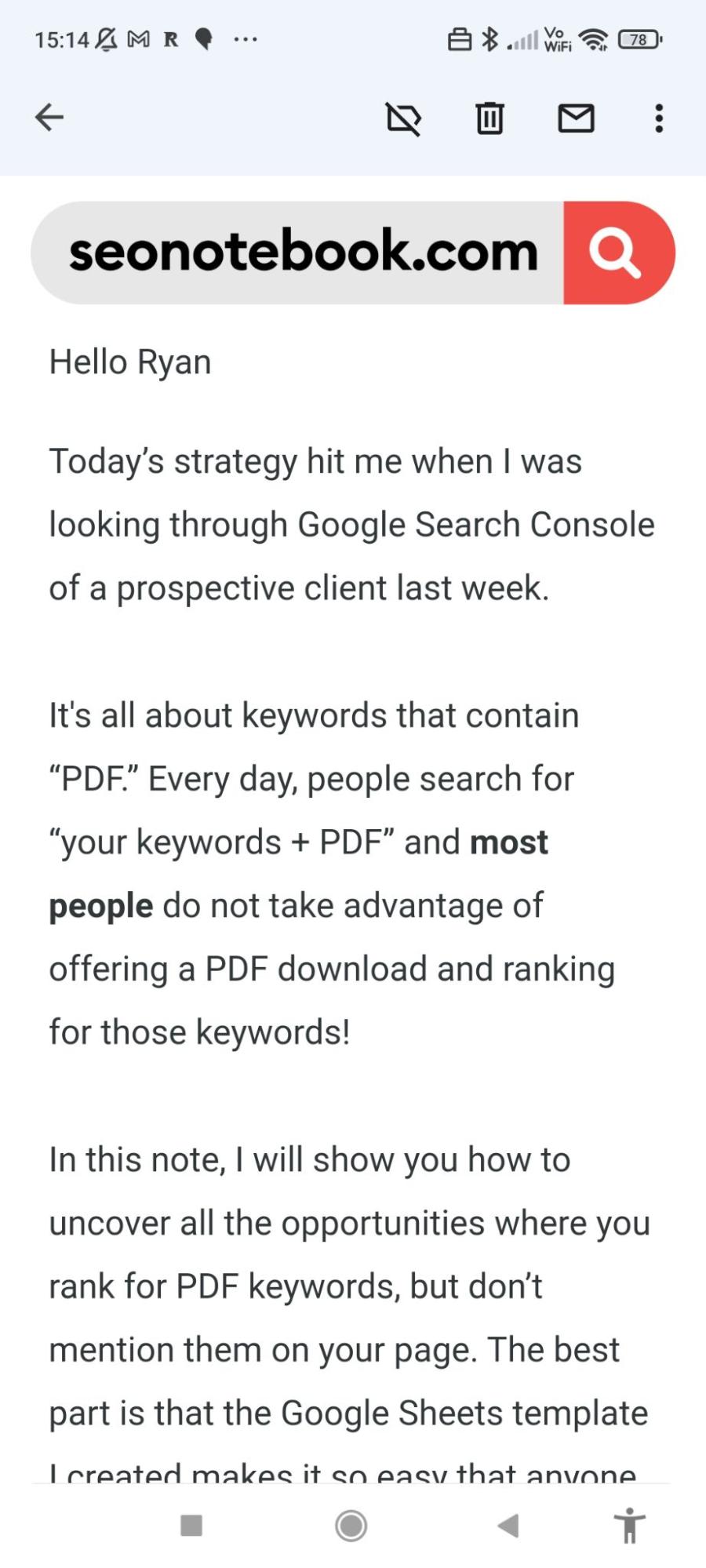 Best for: Following breaking news and emerging trends
Author: Many people
Number of subscribers: 200,000
Email frequency: Daily
Can you sponsor this newsletter? Yes
Subscribe link: https://www.searchenginejournal.com/newsletter-sign-up/ 
Search Engine Journal sends daily emails about the latest Google updates, industry news, and product launches. If you've ever seen "The Matrix," reading Search Engine Journal is like being tapped into the SEO equivalent of the mainframe.
There are a lot of news roundups in SEO. Search Engine Land. Search Engine Roundtable. Search Engine Watch. Search Engine Obsessive. (OK, I made that one up.) I had trouble deciding between them, so I let X make the call.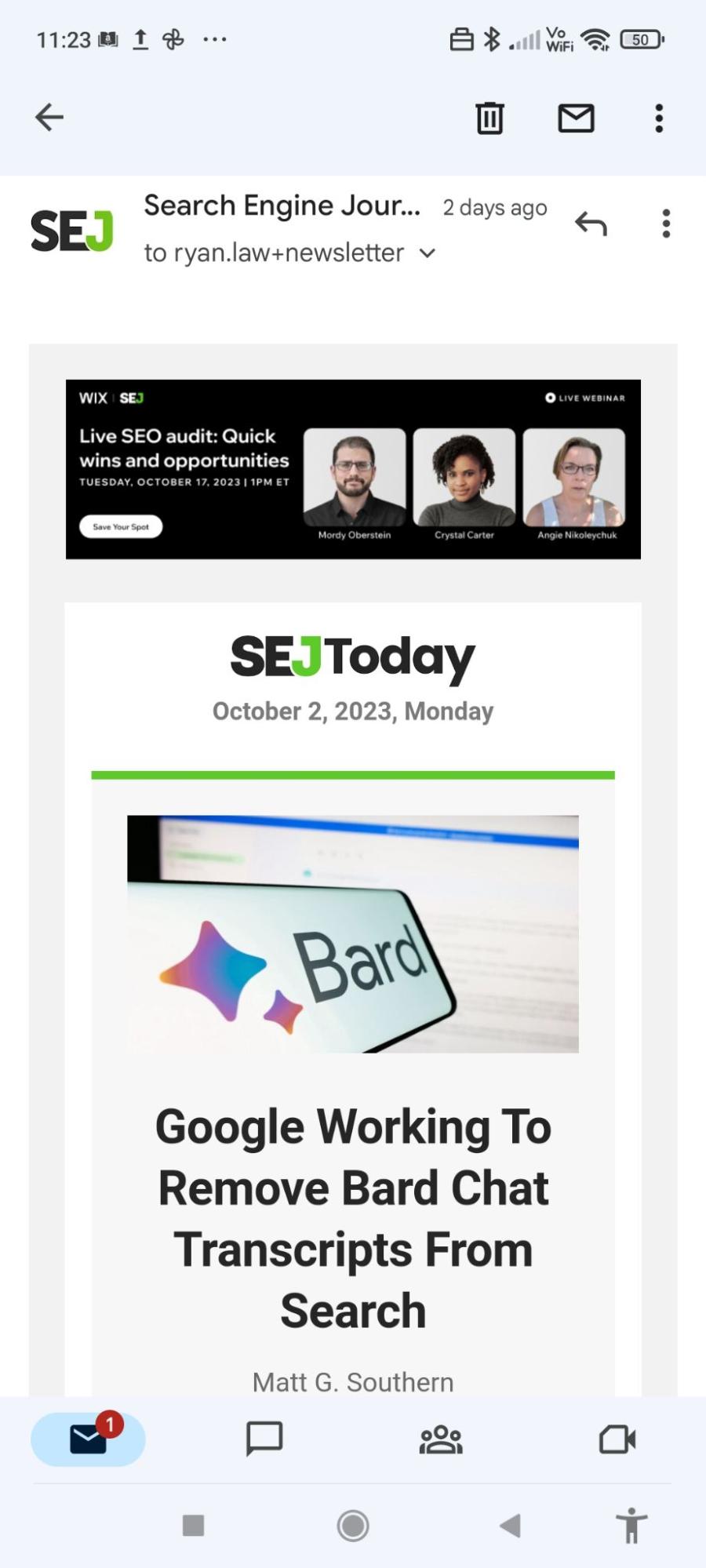 Best for: Making a male-dominated industry a little less male-dominated
Author: Areej Abuali
Number of subscribers: 4,000+
Email frequency: Monthly
Can you sponsor this newsletter? Yes
Subscribe link: https://www.womenintechseo.com/newsletter/ 
The Women in Tech SEO (#WTS) newsletter exists to highlight the incredible work of women in the search industry.
Every month, Areej Abuali shares a selection of projects, talks, and articles like Corina Burri's ChatGPT use cases, Giulia Panozzo's deep dive into causal impact analysis, and Esther Akinsola's pivot from content marketing to SEO.
There's more to #WTS than just the newsletter: There are community groups, conferences in three countries, and a podcast.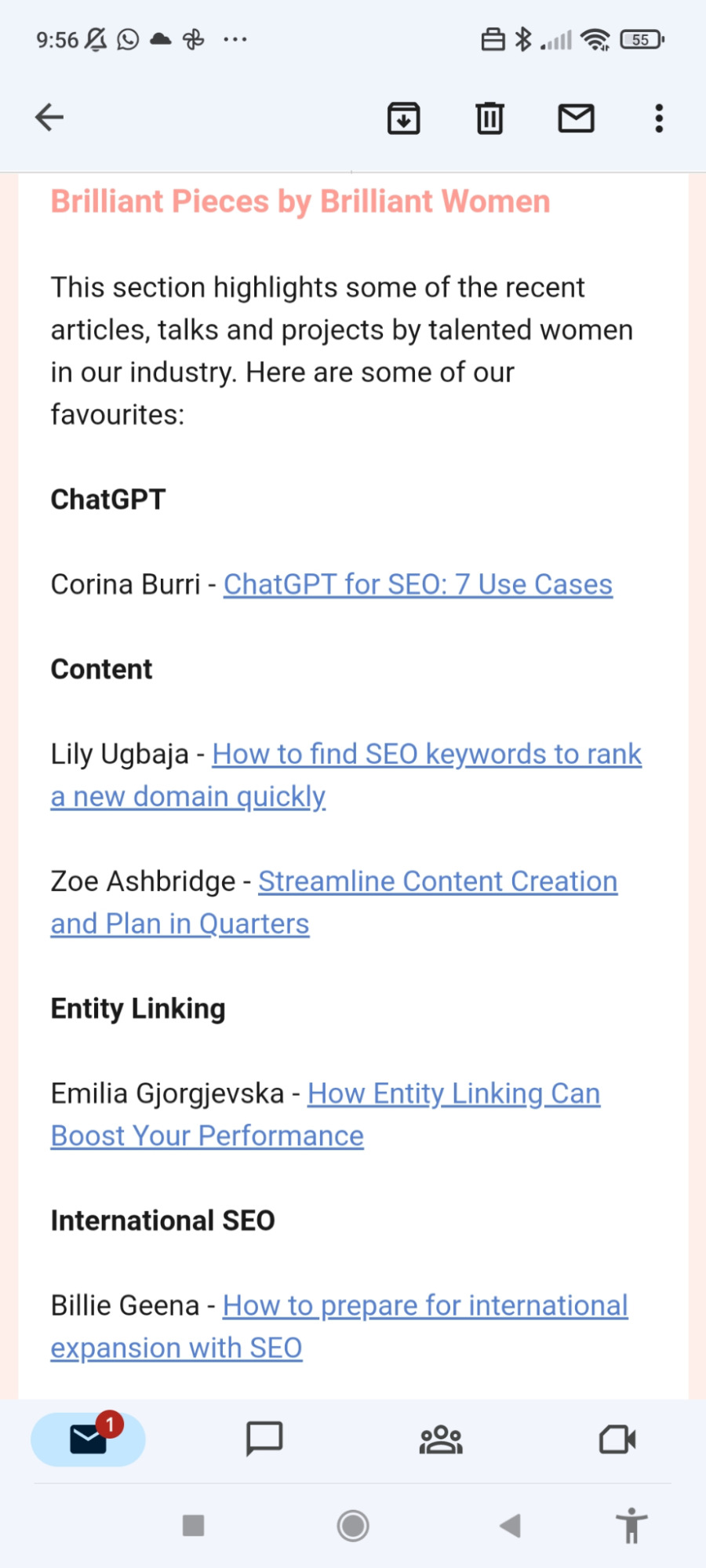 Best for: Exploring the niche and affiliate sides of SEO 
Author: Spencer Haws
Number of subscribers: 67,000
Email frequency: Weekly
Can you sponsor this newsletter? No, just the podcast
Subscribe link: https://www.nichepursuits.com/join-newsletter/ 
Niche Pursuits explores how people use SEO to make their living online.
Spencer Haws and team share regular perspectives and case studies from the worlds of affiliate marketing, niche sites, and dropshipping. Recent success stories include a Japanese travel blog earning $5,000 per month and a D&D and miniatures site earning $8,000 per month.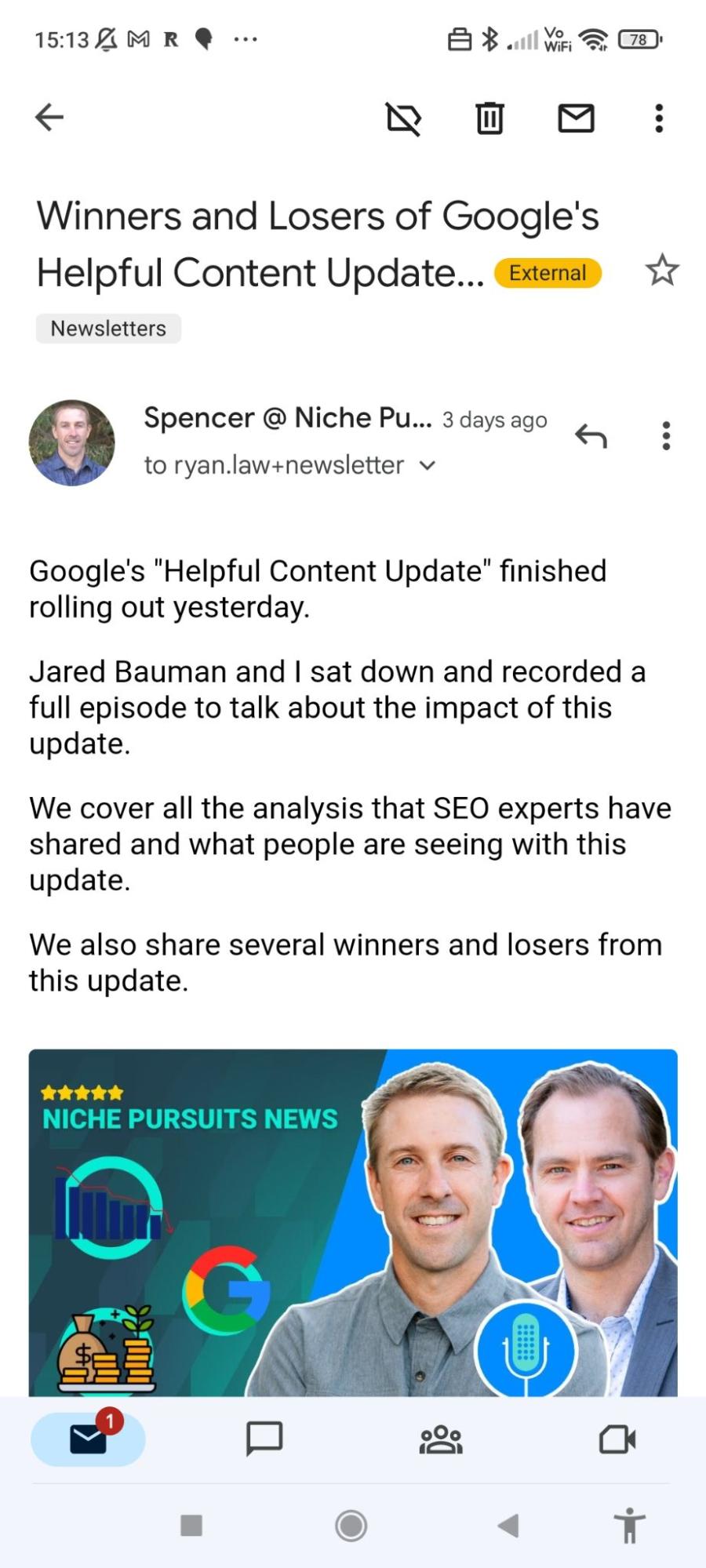 Best for: Improving your local SEO chops
Author: Phil Rozek
Number of subscribers: 10,200
Email frequency: Monthly
Can you sponsor this newsletter? Not currently
Subscribe link: https://www.localvisibilitysystem.com/ 
Phil Rozek writes an intensely detailed newsletter about the challenges and quirks of local SEO. 
Phil proves that there's more to local SEO than citations and location pages. My favorite recent example: why "search optimizing" your opening hours can boost your visibility in Google Maps and even help you rank for more keywords.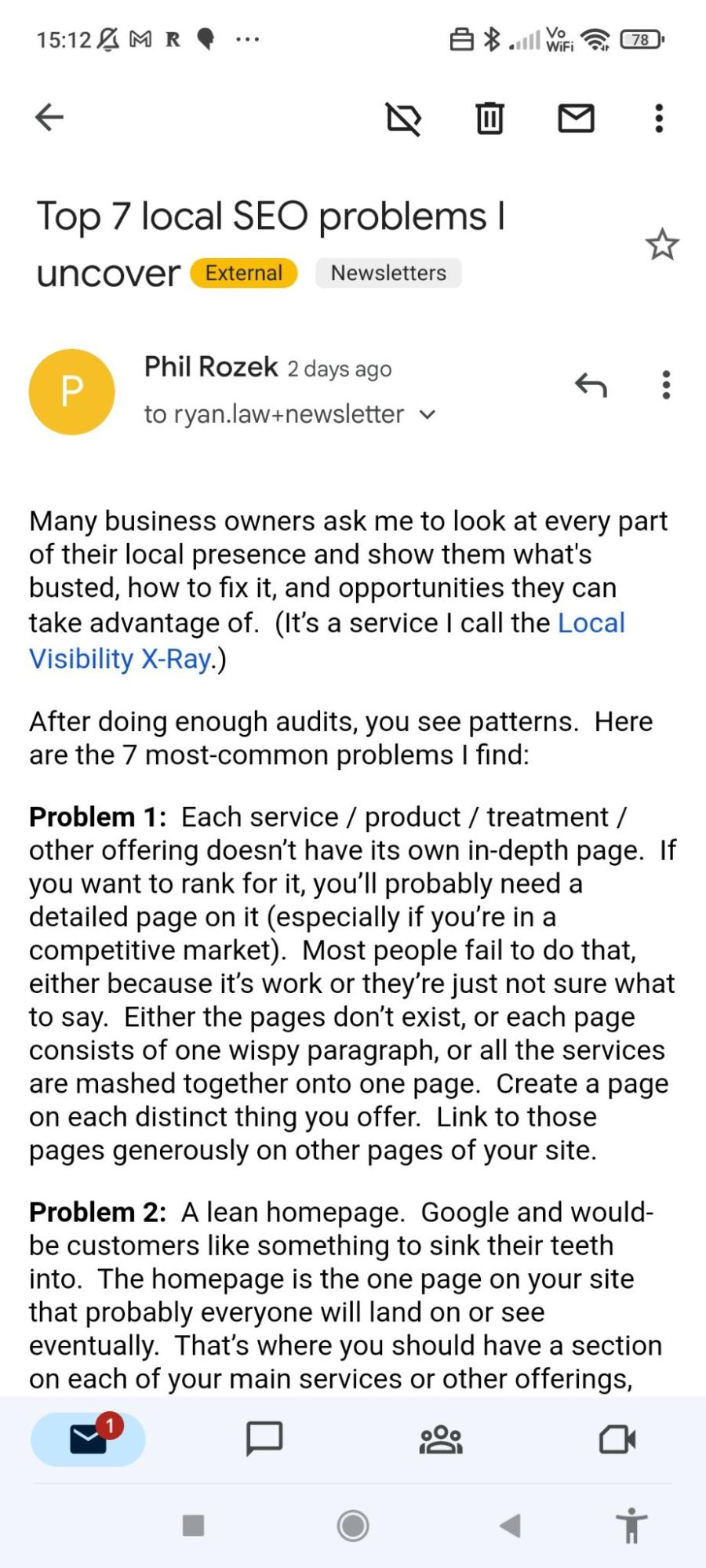 Best for: You guessed it: finding SEO jobs
Author: Nick LeRoy
Number of subscribers: 2,000
Email frequency: Weekly on Monday
Can you sponsor this newsletter? Yes—email [email protected]
Subscribe link: https://www.seojobs.com/ 
SEO Jobs sends a once-weekly collection of new SEO-specific job listings. You'll find roles spanning in-house and agency, in-office and remote, from new starters up to leadership.
Nick LeRoy also writes the SEO For Lunch newsletter, the SEO Freelancer newsletter, and quite possibly several other newsletters in my spreadsheet.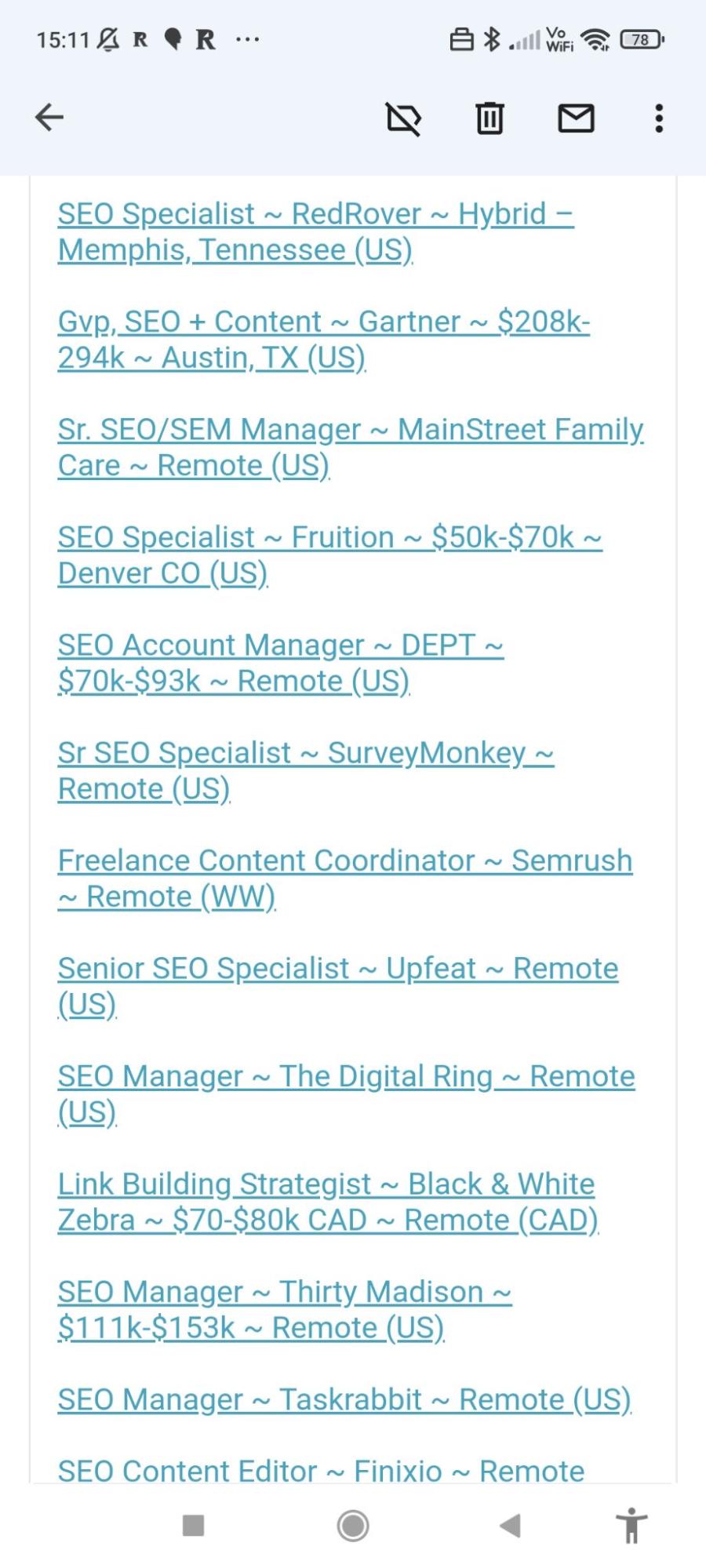 Final thoughts
I didn't want to ruin my credibility by mentioning it sooner, but you should definitely subscribe to Ahrefs' Digest. We'll send you detailed SEO tutorials every week, alongside a collection of interesting reads from around the web. In all, 284,000 subscribers get the email every week.
Want to recommend another newsletter? Share it with me on X.


[ad_2]